A group of South Australia's most promising young footballers have been selected in the Adelaide Football Club Academy squads and recently commenced training at West Lakes.
The 60 athletes will visit the Club several times a month to participate in skill and fitness-based training sessions, with the aim of accelerating their development and giving them  a greater understanding of what it takes to be an AFL or AFLW player.
The program will be led by  AFLW premiership winning co-captain Chelsea Randall and former Adelaide Crow Jason Porplyzia as coaches, however the participants will also work with AFL Senior Coach Matthew Nicks, AFLW Senior Coach Matthew Clarke and a number of AFL and AFLW players.
The Elite Talent Squads will also take part in several curtain raisers ahead of Adelaide's AFL and AFLW matches and will play games against the Port Adelaide Academies squads in the first part of the season.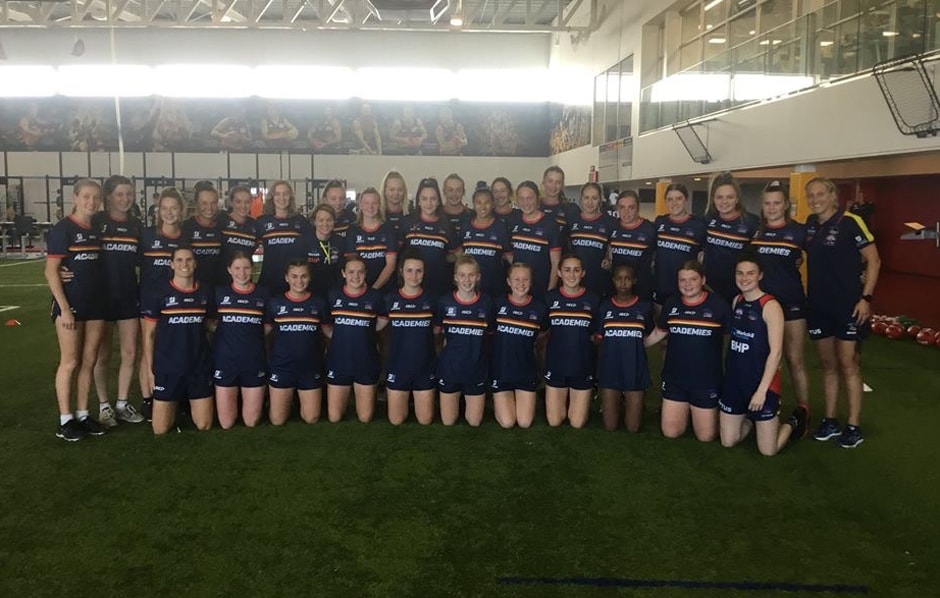 The 2020 Crows Girls Elite Talent Squad with coach Chelsea Randall
Academies Manager Jarrod Meers said the Elite Talent Squad programs have gone from strength to strength since their inception in 2017.
"The feedback from the players involved, their parents and the SANFL clubs is overwhelmingly positive," Meers said.
"AFL Club Academies have fast become a vehicle to increase the overall talent pool.
"We are committed to providing the next generation of talent an inspiring experience within a professional club setting for both male and female footballers.
"Montana McKinnon, Jaimi Tabb and Maddi Newman were all drafted for the 2020 AFLW season after being part of the Acceleration Squad, and we are looking forward to more of our players following in their footsteps over the coming years."
CROWS ACADEMIES - BOYS ELITE TALENT SQUAD

Izayah

Kean

Glenelg

Jed

Grabia

Glenelg

Ashton

Moir

Glenelg

Bowen

Payne

Glenelg

Eli

Redman

Glenelg

Bodie

Ryan

Glenelg

Benjamin

Ridgway

Glenelg

Brock

Summerhayes

Glenelg

Lochlan

Thiele

Glenelg

Joseph

Judd

Glenelg

Thomas

McKay

Glenelg

Jed

Dignan

North Adelaide

Jack

Dundon

North Adelaide

Luke

Harvey

North Adelaide

Kane

McCaulife

North Adelaide

Angus

Tully

North Adelaide

Dante

Edwards

North Adelaide

Khantrelle

Fielding

North Adelaide

Dylan

McLachlan

North Adelaide

Mackenzie

Boxall

North Adelaide

Toby

Turner

North Adelaide

Lachlan

Boscence

Sturt

Kobe

McEntee

Sturt

Lachlan

Murphy

Sturt

George

Pope

Sturt

Loch

Rawlinson

Sturt

Jarrell

Sampson

Sturt

Luca

Slade

Sturt

Angus

van de Berg

Centrals

Waylon

Casey

Centrals

Callum

Hart

Centrals

Coach: Jason Porplyzia
CROWS ACADEMIES - GIRLS ELITE TALENT SQUAD

Rachel

Valenti

Centrals

Dakota

Williams

Centrals

Libby

Fiebiger

Centrals

Jessie

Sandford

Centrals

Ruby

McDonald

Centrals

Abbie

Thomas

Centrals

Mia

Nolan-Grigg

Centrals

Kate

Argent-Bowden

Centrals

Ella

Boag

Glenelg

Lauren

Williams

Glenelg

Annabelle

Harris

Glenelg

Sarah

Goodwin

Glenelg

Amara

Scheide

Glenelg

Eleanor

Larosa

Glenelg

Laura

Sargent

Glenelg

Kayla

Robran

Glenelg

Matilda

Scholz

Glenelg

Elaine

Grigg

North

Timeka

Cox

North

Amelie

Borg

North

Charli

Smith

North

Gabby

Rodda

North

Hannah

Ewings

North

Ruby

Cunningham

Sturt

Georgia

Hamilton

Sturt

Tiah

Hough

Sturt

Piper

Khouri

Sturt

Grace

Powell

Sturt

Zara

Walsh

Sturt

Lily

Whitcombe

Sturt

Coach: Chelsea Randall