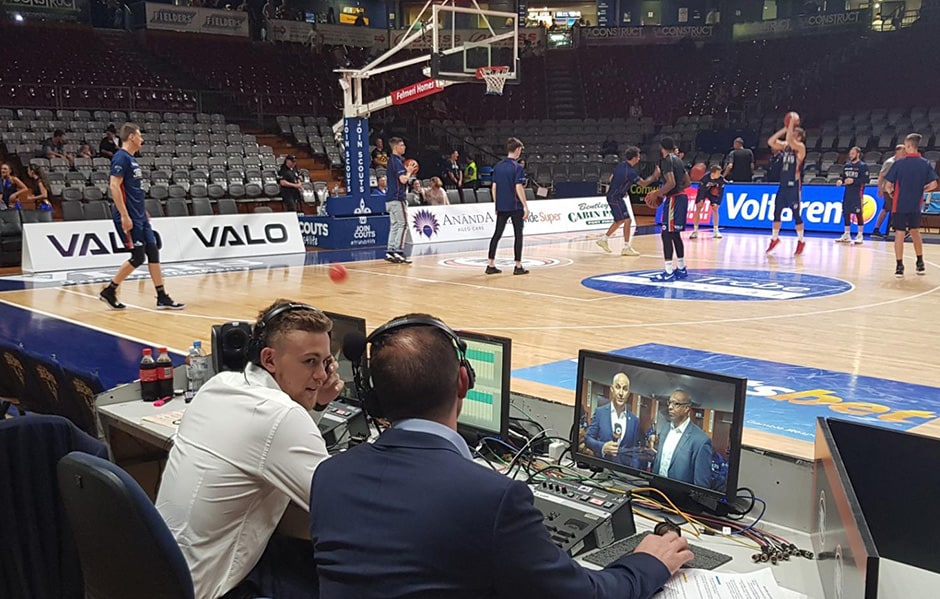 Hugh Greenwood has played with, or against, almost every Australian currently in the National Basketball League (NBL) and now he's commentating their games alongside legends of the sport.
The Crows midfielder will be more than a fan at the Adelaide 36ers' home games this season as he joins an experienced team in the commentary box.
The 26-year-old has been one of the Crows' biggest cross-code stories since switching to Aussie Rules football in 2015, but basketball will always be his first love.
More than just a sport, it was something that bound him to his late mother, Andree.
"I started playing basketball in Under-10's… I told mum I'd only play if she coached me, so she did," Greenwood said.
"She went to the AIS like I did and won a WNBL championship with Hobart, so I was around basketball from an early age.
"I debuted for the Boomers in 2010… mum got to represent Australia as a junior but never got to do it at senior level, so I was finally able to one-up her."
When Andree, affectionately known as 'Onny', sadly passed in October 2017, a host of NBL stars wore black armbands in her honour.
Huge thank you to the fellas @AnthonyDrmic @MitchCreek55 @brenteys @sobes2zero and Big Hodge for honoring Mum with black armbands tonight.❤️ pic.twitter.com/9d4zCEpJgL

— Hugh Greenwood (@HGreenwood3) October 27, 2017
For Hugh, commentating was a way for him to reconnect with the game and keep his dream of coaching basketball alive.
"My long-term goal, once I've finished playing footy, is to get back into basketball… my dream is to coach college basketball in the States," he said.
"I felt like I needed to stay involved with basketball and stay up to date and unfortunately I can't play anymore so this opportunity was just too good to turn down.
Football may be his priority now but having the opportunity to be involved with basketball again is something he's hoped for since he switched to footy three years ago.
"Obviously I left the NBL in an unfortunate way when I broke my contract with Perth to come and play footy, so it means a lot to me for the League to give me this opportunity to be involved again," he said.
"I shut off from basketball for a while and sort of fell out of love with it so be back in some way, I just can't thank the NBL enough.
"It was my first love and something I still really enjoy so just to be around basketball again and talking basketball again is so rewarding."
Awesome experience being behind the desk of last nights @NBL game between @Adelaide36ers and @CairnsTaipans. Thanks to @JohnCasey2880 and @chomicide for taking care of me. A lot to learn and a lot more to contribute. Be back in a few weeks. 🤙🏼 #seeincredible https://t.co/FahFDzEdMZ

— Hugh Greenwood (@HGreenwood3) November 24, 2018
Still new to commentating, Hugh said the profession was more of an 'art form' than he'd first expected.
"It's challenging but I've had to back my knowledge in. I know enough about the game, but there's a difference between talking on your couch versus commentating for television," he said.
"I went to Sydney for media training… it was for all the things you don't think about like looking at the camera, body language and the way you talk and deliver words."
Hugh isn't the only Crow making regular appearances at the 36ers' home games this season.
"Eddie's always there, for my first game at half-time he came over, put a headset on and tried to chip in," he said.
"Lachie Murphy, Myles [Poholke] and Elliott [Himmelberg] are often there too."
He's played with a number of the current 36ers playing, including Nathan Sobey, and former captain Mitch Creek.
That @HGreenwood3 to @CreekMitchell connection tho 😳@FIBAAsiaCup with the 2⃣0⃣1⃣1⃣ throw🔙pic.twitter.com/wybhRobp0W

— NBL (@NBL) December 11, 2018
"Jacob Wiley, Nathan Sobey – these guys are amazing athletes to I love commentating them and I haven't seen Andrew Bogut play in person yet so I'm really looking forward to seeing him," he said.
"I'm just excited to be back around basketball again."