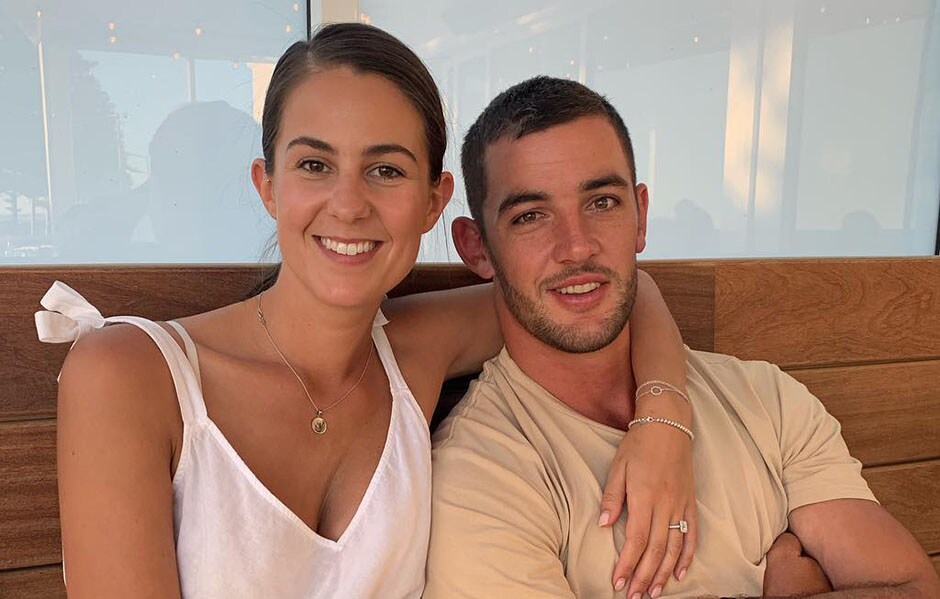 I was more nervous doing that than playing in the grand final two years ago and I was very nervous that day
Taylor Walker
Adelaide co-captain Taylor Walker took his fiancé Ellie Brown on a trip down memory lane when he proposed to her on Christmas Eve last year.
Talking to Roo and Ditts on Triple M Adelaide, Walker revealed he took his long-term girlfriend back to the place they first met when he popped the question.
"[We met] back at the Clipsal, I like to say she was a grid girl but she wasn't – she drove a golf buggy around for Channel 7 one year and Scotty Thompson and I jumped in and I thought 'geez, I like the look of this girl'," he said.
"[That night], it was getting late and we were heading out, so I asked Ellie if she could hold my sunnies, just so I could come back the next week and see her again – I sucked her right in, she fell for that."
The day he proposed, Walker said Ellie had no idea what was coming.
"It was Christmas Eve that we went back there so they were setting up [for the race]… we often take the dogs for a walk down there so she had no idea," he said.
"I had a lot of things I wanted to say but I was more nervous doing that than playing in the grand final two years ago and I was very nervous that day."
Before he proposed, the 28-year-old made sure to get permission from Ellie's father Rob Brown.
"Well, I spoke to Ellie's old man the day before, RB, he was quite excited to get a male into his family, having two daughters," he said.
"I did say to RB that we'd keep it between us and as a bit of a surprise for Vicki and Alex (Ellie's mum and sister) but as soon as he got home, he got a bit weak and told Vicki."
.@texwalker13 spills the beans on his engagement to Ellie with Roo & Ditts.

Grab the Triple M app to hear the full chat: https://t.co/RA0cIv2TXe pic.twitter.com/3iKvGnWyJk

— Triple M Adelaide (@TripleMAdelaide) January 26, 2019
As for the wedding, Tex said he would leave the details to Ellie.
"I've just got to organise suits… Ellie's started looking at some venues and stuff, I'll leave all that to her," he said.
"I did mention we should go back to Broken Hill, but you can imagine her response to that."