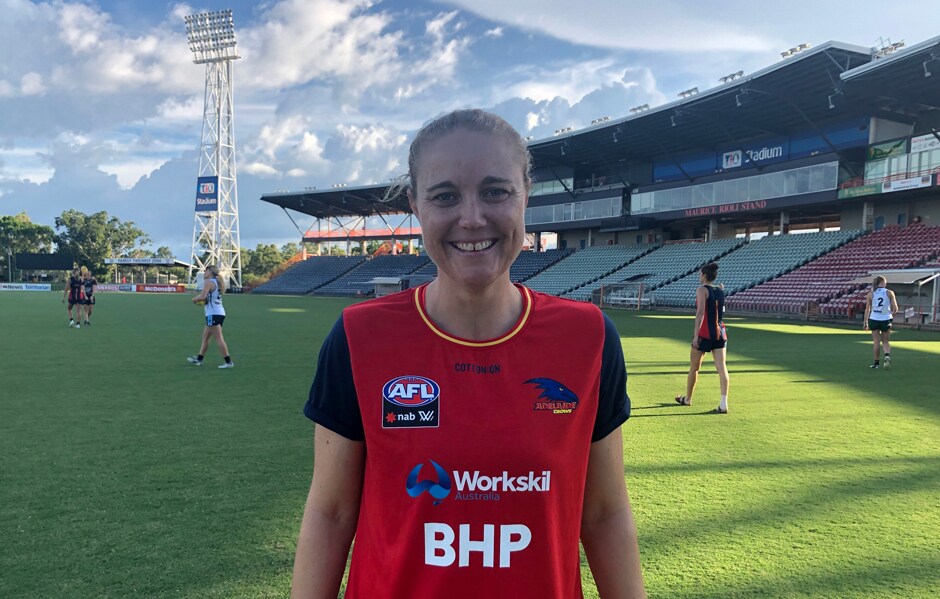 When that opportunity with the Crows came up, I grabbed it with both hands.
Heidi Thompson
Adelaide will call on VFL Women's coach Heidi Thompson to coach the Darwin-based players for the remainder of the 2019 AFLW season
The Queensland native has replaced assistant coach Tim Weatherald who moved to Adelaide to further his teaching career.
He has continued his role with the Crows' women's side.
Thompson was named head coach of the NT Thunder in December and was soon after tapped to train the Crows players in Darwin.
She spent two years as the head coach of the Brisbane Lions Women's Academy before moving to the Northern Territory.
"I've always had a love for footy," Thompson said.
"As a Queenslander, it's certainly not number one and it was tough getting through those barriers, but footy has given me so many opportunities.
"Playing, coaching, managing… I feel like I'm well-placed for this position."
Adelaide has two players based in Darwin this season – Danielle Ponter and Jasmyn Hewett.
FREQUENT FLYER: Why Ponter is racking up the points
Thompson said she was eager to work with the Crows after being appointed head coach of the NT Thunder.
"When this role came about, I did ask if there was a capacity to be involved with the Adelaide Crows," she said.
"When that opportunity came up, I grabbed it with both hands.
"Obviously we have less in the way of numbers but we reflect everything that is done down in Adelaide, right to the tee where Doc is doing his review meeting.
"Everything is replicated."
Thompson played in the QWAFL from 2010 to 2017 and was named in the team of the year in 2016.
In August, she was named to the inaugural AFL Women's National Coaching Academy and will complete her Level Three AFL coaching accreditation as part of the program.