Crows legend Andrew McLeod returned to the drawing board in 2019 as the visionary for this year's Indigenous guernsey ahead of Sir Doug Nicholls Round.
He's no stranger to designing the coveted guernsey, but this year he had some extra help from his brother Jonathan.
Together, the pair created a unique design while paying homage to their Torres Strait Islander culture through nine different elements.
"I played second fiddle a bit to this one, my brother's more so the artist in the family when it comes to these things," McLeod told AFC Media.
"It's nice to do it with my brother, and it was good to bring our Torres Strait culture - we were able to showcase that through the headdress."
The centrepiece of the guernsey is a headdress, known as a Dhoeri - a significant piece of McLeod's culture.
"With the headdress, we wanted to showcase elements of Island life and our culture, as well as making it contemporary," McLeod said.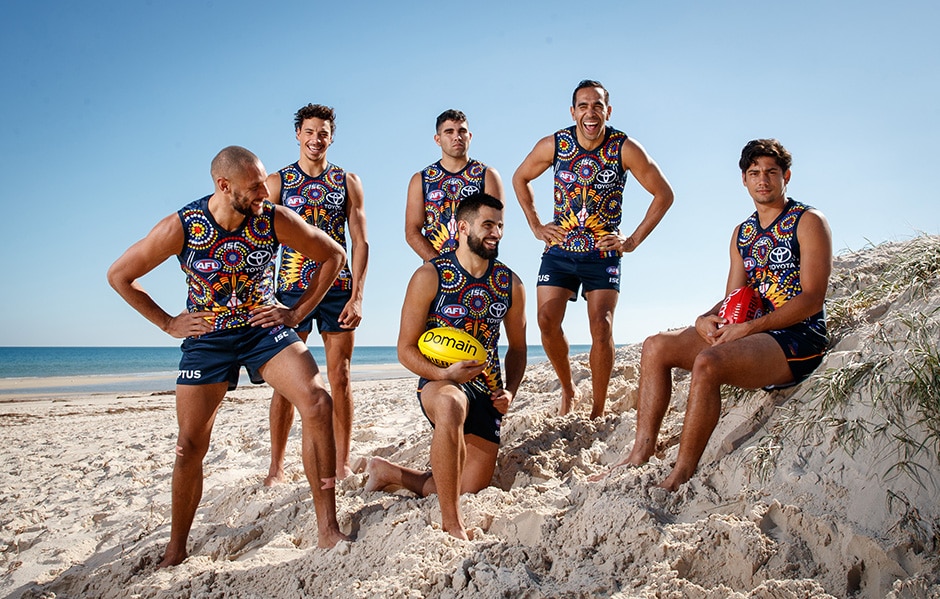 "The Dhoeri is usually made of feathers, which represents your family or clan or tribal group, but we replaced them with the 18 tuna which represents the players.
For McLeod, ensuring the guernsey also paid homage to the Kaurna people was paramount.
"The Kaurna shield allows us to pay homage to the Kaurna people whose lands we reside on, but also our team plays footy on," he said.
Sir Doug Nicholls Round could mark Wayne Milera Junior's return from injury and while it would not be his first Indigenous Round match, it could be the first time he pulls on one of McLeod's designs.
"He made one earlier on, but I wasn't at the Club so now to be able to wear one that's been designed by Bunji is really humbling," Milera said.
"I like that it recognises a bit of his culture up north, but also recognises the Kaurna people through the shield.
"That's what I find most appealing about, that it's mixed cultures.
"If you look closely on it, each part has a meaning to it - like the rope represents the tightness of the group."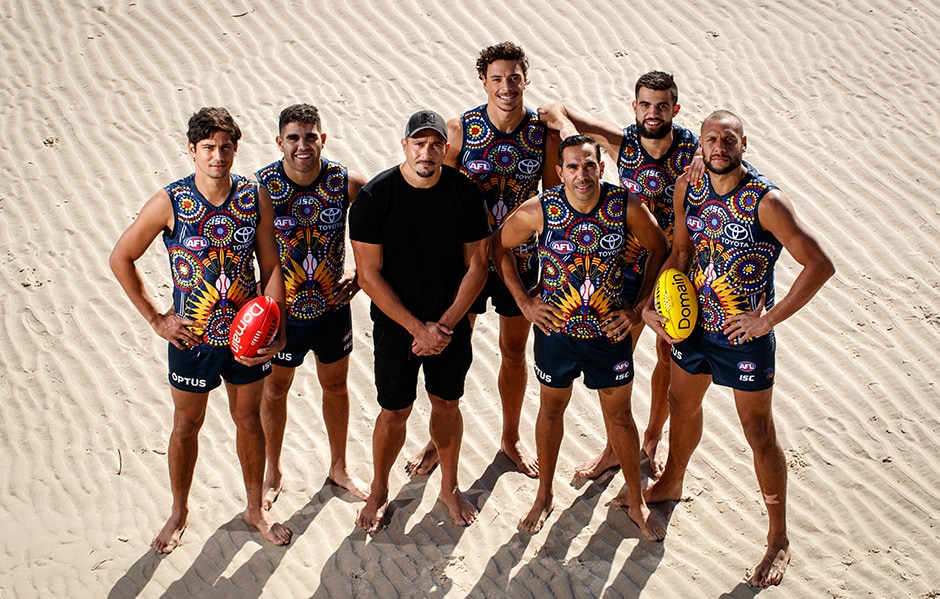 The nine elements, as explained by McLeod himself, are:
1. Koedal - the Crocodile tail depicts a strong powerful ancient totem (McLeod's totem)
2. Cod fish - part of an Islanders' staple diet taken from the reef to feed families
3. Rope made from coconut fibres - are closely knitted and entwined to be strong, similar to our relationships with each other and our environment
4. Spiral shells - are found on our beaches everywhere reminding us of home
5. Decorative ornamental shells - strikingly decorative and found on our reefs
6. Long Bum - found in the mangroves are a source of food and good to eat
7. Waru - a turtle laying its eggs on the beach symbolises new life, survival and is also an important food source
8. Warup - an Island Drum with a booming sound like the clapping of thunder is used in song and dance and resonates with an Islanders heart
9. Dhangal - Dugong, this is also a totem and an important food source, the picture shows how they are cut up for kai kai (eating)
The guernsey will be on sale from 5pm on Monday, May 13.