Injured Crow Tom Doedee has had a front row seat to Adelaide's emerging talent in 2019, making the most of his time on the sidelines as a boundary coach for the Crows SANFL team.
Darcy Fogarty is one Crow Doedee has kept a close eye on since he arrived at West Lakes in 2017 as a fresh faced 18-year-old from country South Australia.
The pair made their AFL debuts together in Round One, 2018, and over the past year, Doedee's observed the young Crow's development, including his stint in the backlines this season.
"He had such a good start to his career, debuted in the first round last year and had a fair impact," Doedee told AFC Media.
VERSATILE: Pyke talks Fogarty's future
"This year, it's been more of a challenge. I don't think he had the pre-season he wanted and to play SANFL all year wasn't in his mind at the start.
"He hasn't been as consistent yet, but when he shows those flashes of dominance, he's just a bull."
As a defender, Doedee says he's seen how Fogarty's time in the backlines has improved his game.
"Leading pattern wise, he still has a bit of work to do, but going down back has helped him find out how defenders want to play on him," Doedee said.
"He's gone from just being a lead up forward and running around to now thinking 'oh maybe my defender wants to get this angle or find my body'.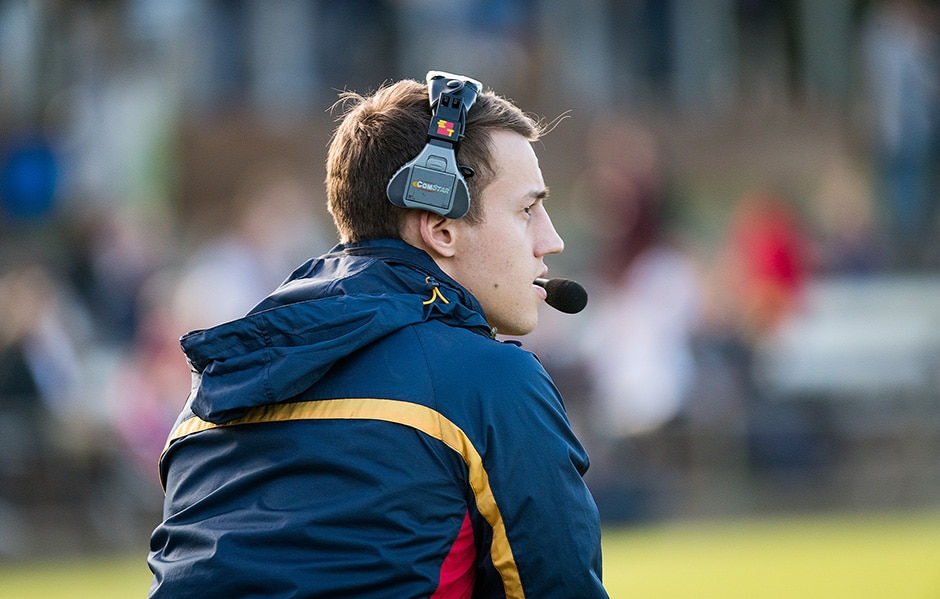 Tom Doedee coaching from the boundary of the SANFL Crows' Round 9 clash with West Adelaide.
"He's had a few spells in the midfield too, where he's had a real presence and his pressure around the ball has been good.
"But when he rolls forward, and he's leading up to ball, throwing his body around and having an impact, he's just so dangerous."
Acknowledging Fogarty's positional shift was sudden, Doedee said it took the 19-year-old some time to adjust.
"I think it was a bit difficult for him early on, because he didn't spend any of the pre-season down back," Doedee said.
"It's tough to get continuity in that sense but he's a natural footballer so wherever he plays he's going to have an impact."
INJURY UPDATE: Crows facing tests for Showdown
For Doedee, Fogarty's influence on and off the field is undeniable.
"He's a hooligan and a larrikin, but he's shy when the cameras come on," Doedee said.
"In the locker room, he brings a spark and energy and laughter, and then on field he brings a physical dominance that the boys get around.
"When he puts his body on the line or lays a big tackle, it gets everyone else up and about."