Intential high-impact strikes to the head will no longer be referred directly to the Tribunal but instead attract an automatic three-match suspension under a suite of changes to the MRO system approved by the AFL Commission.
From 2019, intentional conduct involving high contact will only be referred directly to the Tribunal when the impact is graded by the MRO as severe, as Andrew Gaff's strike on Andrew Brayshaw was following the round 20 West Coast-Fremantle clash.
Andrew Brayshaw left the ground bleeding from the mouth after an incident involving Andrew Gaff.#AFLEaglesFreo pic.twitter.com/ECZgNqiehg

— AFL (@AFL) August 5, 2018
However, the Commission has also moved to increase the range of offences that will be referred directly to Tribunal, with stomping and eye gouging now added to a list that already included offences such as striking, attempting to strike or spitting at an umpire, and serious misconduct.
The League has also reacted to the 19th man controversies that soured the SANFL preliminary final and NEAFL Grand Final this year, introducing changes to the Laws of the Game applying at state league and community level.
Clubs will now be able to call for post-match reviews if they suspect their opponent had 19 players on the field during a game, while team runners will be also be able to call for a count during games in addition to team captains and vice-captains.
The penalty following a count can now be a loss of points for the relevant quarter to the time of the count rather than a loss of points for the entire match, while the controlling league will have a wider scope of penalties they can apply including fines, reversal of match result or any other sanction it deems appropriate.
North Adelaide had 19 men on the field for more than four minutes of the fourth quarter of their five-point preliminary final win over Woodville-West Torrens this year, while in the NEAFL Grand Final, Southport had 19 players on the ground for about 20 seconds in the final quarter of their clash with Sydney.
The results of both games were allowed to stand, with North Adelaide fined $10,000 and docked four premiership points for the 2019 season, while Southport escaped without penalty after the NEAFL determined its breach had no material impact on the result.
The Commission also accepted recommendations from the League's Competition Committee that there be a clamp down on striking, with more free kicks to be paid for prohibited contact, and the creation of a new offence for strikes of negligible impact.
Players who elect to bump and cause forceful head clashes will now be held strictly liable, which represents a retreat from the greater latitude the MRO gave players to bump last season, best exemplified by Ryan Burton being cleared for his bump that concussed Shaun Higgins.
Players who bump can still rely on the defence they did so while contesting the ball, but the Commission has signalled the MRO will apply that exception with "increased conservatism".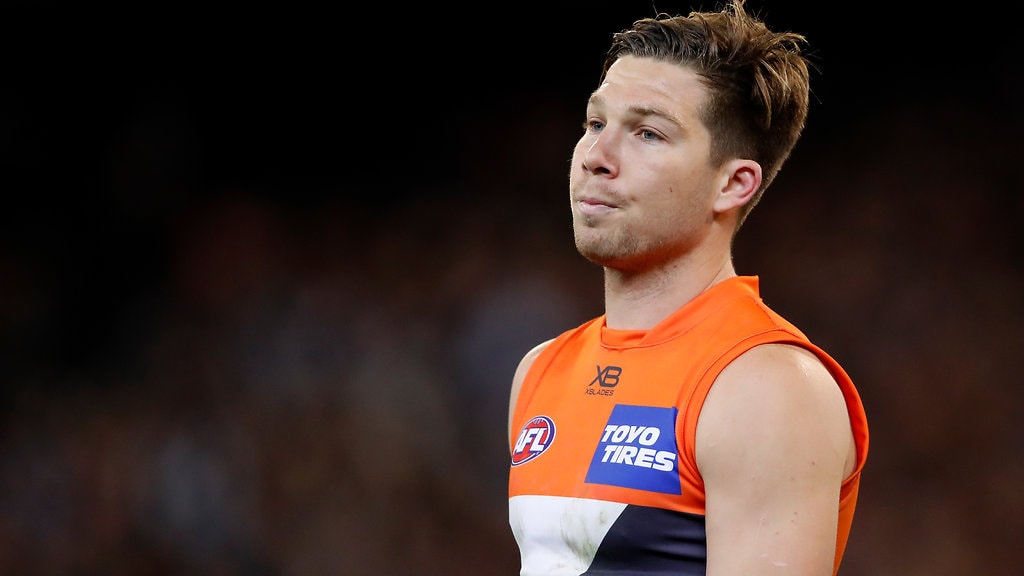 There will also be a crackdown on umpire contact and on players using their studs in marking contests – as Giant Toby Greene did on several occasions last season – and in general play.
A new Tribunal guideline of Intentional Umpire Contact has been created to cover actions that are aggressive, forceful, disrespectful or demonstrative, while a new offence of Unreasonable or Unnecessary Contact will allow players to be fined for offences that fall between intentional and careless contact.
The MRO will also apply fines more strictly to players who make incidental careless umpire contact after setting up behind an umpire at bounces; run through the umpire's exit path; and attempt to use an umpire as a block to escape taggers.
Free kicks will be paid against players who make contact with umpires as they are leaving the centre circle via a clearly signalled exit path.
Meanwhile, the inappropriate use of studs will attract fines and suspensions when there is an associated impact to an opposition player.
The Commission also approved changes to the AFLW match review system, wherein:
Low-level classifiable offences will attract fines and reprimands only
The early plea discount will be removed for suspensions
AFLW clubs will risk a $5000 bond (with 50 per cent included in the football department soft cap) if they challenge charges at the AFLW Tribunal.