Adelaide defender Tom Doedee has praised the impact of new Crow Jordon Butts.
Despite suffering a season-ending knee injury in Round One this year, Doedee has still had a significant impact on his teammates as the SANFL side's boundary coach.
Watching from the sidelines opened Doedee's eyes to Butts' raw talent.
"Buttsy is a quiet achiever, but when he gets out on the track, he is intense and trains hard and when it comes to the game, he puts his body on the line," Doedee said.
"He's picked up things really quickly, he's definitely listened and he's taken advice on board from the coaches and other players and implemented that into the game.
"He's found a way to get it done when it comes to aerial or ground and his skills offensively, I think he likes to play more with the ball than without it.
"Jordon likes to run and carry a bit like a half-back and once he gets the ball, he's hard to stop."
A 60-second glimpse of what our final rookie selection, Jordon Butts, can do #weflyasone pic.twitter.com/ahEUhWY6cg

— Adelaide Crows (@Adelaide_FC) November 23, 2018
Doedee sees a bit of himself in the medium-sized defender and is helping him work through the same issues he faced when he started at the Club.
"I've been trying to help him with his aerial work, his marking and his body work with some of the bigger bodies he's played on in the SANFL," Doedee said.
"I had a similar issue, when I got matched up on a bigger body it was hard to move them around.
"He's come pretty good at finding a way to get it done, get a hand on it or take a mark."
INJURY: An update on Tom Doedee
Butts has been taking in as much knowledge as he can from Doedee.
"Tom knows what he's talking about, so it's good to have him on the bench," Butts said.
"He's kind of like another coach and teaches us young guys out on the field."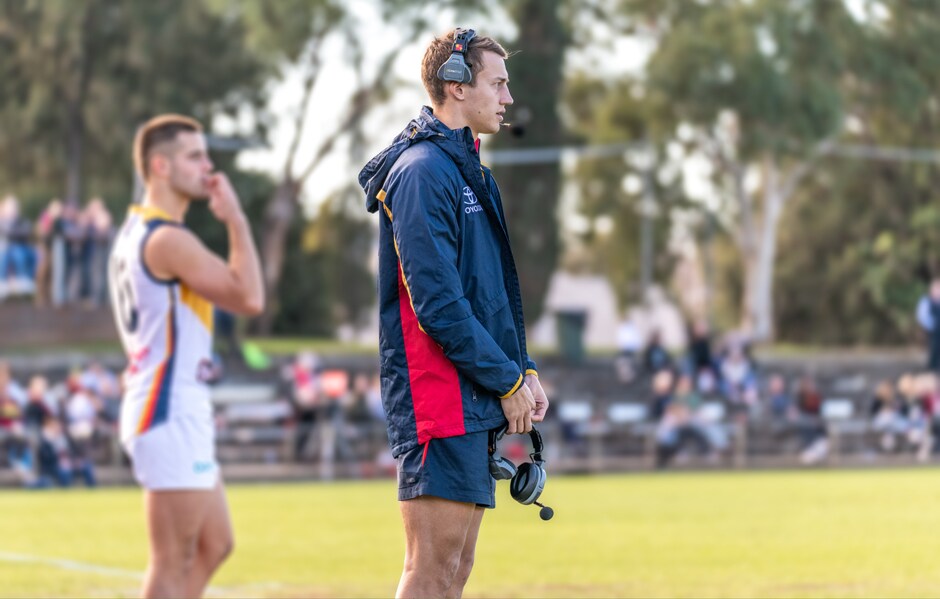 But Doedee isn't the only one helping the 19-year-old.
Key defenders Daniel Talia and Alex Keath have been helping the draftees that are playing in the backline.
Playing alongside experienced Crows Andy Otten and Luke Brown has also assisted with the young player's development.
"They know the structures so well and demand that from you a bit as well," Butts said.
"They are instructing you, which gives you confidence, ease and assurance that you're doing the right thing."
Kyle Hartigan is another one who provided Butts with a lot of support when he first joined the Club.
Butts lived with his fellow defender when he first moved interstate from country Victoria.
"Harto's a funny bloke and he looked after me pretty well for the first weeks," Butts said.
"He's got a good little routine that he follows, so I based mine off his and he showed me around well."
Butts has been providing a lot of run out of the SANFL Crows' backline and doing it well too.
Three weeks in a row, he has kicked at over 90 per cent efficiency, twice at 100 per cent.
The coaches named him in the best players after Adelaide's six-point win over West Adelaide on Saturday, having had 23 disposals, 11 marks, six spoils and three rebound 50's.
He'll be hoping to maintain that form next Saturday when the SANFL Crows take on Central District at Elizabeth Oval.