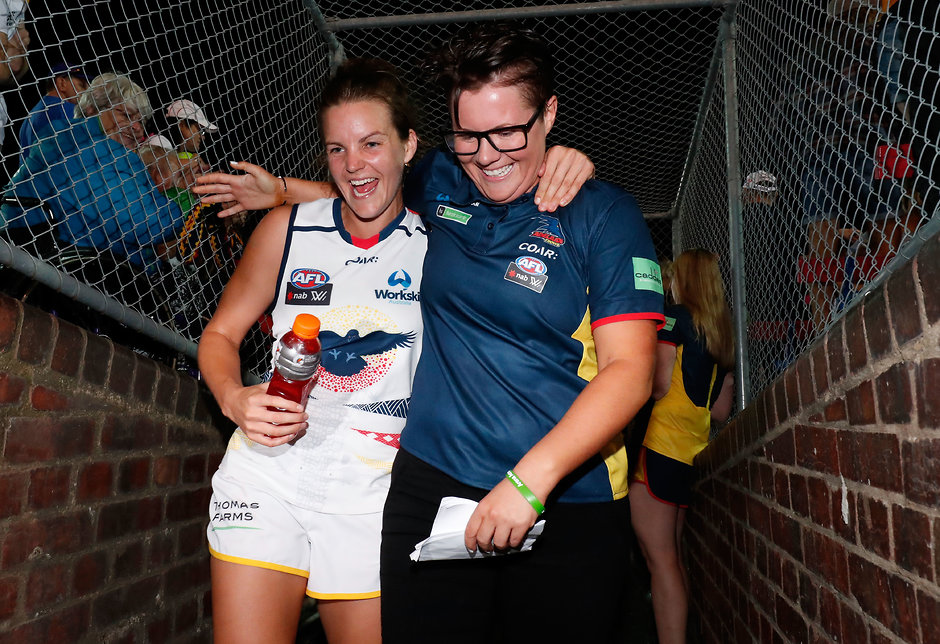 There is a need for speeeeeed
Friday night's match was played at a frenetic pace and no player moved faster across Whitten Oval than Crows half-forward Jess Sedunary (pronounced 'Sedge-you-nary'). A cross-fitter and a personal trainer by trade, Sedunary's speed and power was pivotal to Adelaide's attacking game plan. 'Sedge' broke the lines and loomed as a dangerous option inside 50m. She had two shots at goal – both resulting in points – into a strong breeze in the first quarter and eventually found the middle of the big sticks with a dynamic run in the second.
In trademark fashion, Sedunary tucked the ball under her arm and accelerated, whipping up her long ponytail behind her. Without breaking stride, she launched the Sherrin and kicked her first AFLW goal. Adelaide's pace was prevalent both in attack and defence, with the likes of Sedunary, co-captains Chelsea Randall and Erin Phillips, defender Stevie-Lee Thompson, forward Kellie Gibson and onballers Georgia Bevan and Deni Varnhagen using speed to find space and shut-down opponents. Both teams felt the pinch of the high-octane hit-out in warm conditions, with a number of players cramping late in the match.
"It's 15-minute quarters, 16-a side and a smaller footy, let's show off the girls' skill. Let's see the one-on-one contests. Let's see the big goals. Let's not go into that defensive shell. Are you going to come out and throw the first punch? Or are you just going to come out with your dukes up and get punched? We want to come out and attack, and see where it takes us." – Coach Bec Goddard


Our @Jess_Sedunary has a need for speed! 🚀 This was a real team-lifter just before half-time #weflyasone pic.twitter.com/hJZ9rU8QAs

— Adelaide Crows (@Adelaide_FC) February 11, 2017

Adelaide's lucky number is 48
For the second straight week, the Crows posted a final score of 7.6 (48). Adelaide defeated Greater Western Sydney by 36 points in the opening round, and backed up with a 25-point victory on the road against the fancied Western Bulldogs. While the Club's offence is a weapon, the unheralded defence has also conceded only three goals in its first two matches. It's also not lost on Crows fans that a 'Talia' – key back Talia Radan – is helping to marshal the defence.
Match Report: Crows v Bulldogs
Tayla was a Thorn in the skipper's side
Dogs' captain and marquee player Katie Brennan posed a significant threat for the Crows. After overcoming an ankle complaint, the smart and mobile key forward kicked two goals from 16 possessions, to go with six tackles and four marks in her team's season opener against Fremantle. Northern Territory teenager Tayla Thorn was given the big job on Brennan and held the Bulldogs star to one goal from a free kick and 10 possessions. Brennan moved into the midfield in the second half where the athletic Thorn continued to provide a shadow.
Perkins enjoys the prime time
Forward Sarah 'Perko' Perkins became an instant hit with fans in Round One of the AFL Women's competition, and likely won a few more hearts on Friday night. Despite being only 173cm tall (two centimetres shorter than Eddie Betts) Perkins patrols Adelaide's forward line. The big-kicking Victorian finished with two goals against the Dogs, including the opening major of the game and a set shot in the second quarter that was just beautiful to watch. In her AFLW debut, Rachael Killian spotted up Perkins on the lead about 35 metres out. Perkins, who has earned the nickname 'Tex', leant back and coolly slotted the goal. To celebrate, she stood still with her arms outstretched, and was quickly swamped by Randall and joint vice-captain Ange Foley.
"Look, it's my trademark. I've done it at club level, so I might as well bring something different to the AFLW." – Sarah Perkins laughed when asked about her celebrations post-game on Fox Footy.


That winning feeling 🙌 See the best @AFLphotos pics from last night's clash at Whitten Oval: https://t.co/R8g0trrUtR #weflyasone pic.twitter.com/Wc0ojpMna8

— Adelaide Crows (@Adelaide_FC) February 10, 2017

It was the right call on McCormick
Introducing a player who has been involved exclusively with another sport for the past three months and only joined the group for training on Tuesday could be considered a risk, but it paid off with code-swapper Jenna McCormick on Friday night. McCormick became available for selection this week after her soccer team Canberra United lost a heartbreaking W-League Semi-Final on Sunday. The utility was brought straight into the Crows side and had an immediate impact. McCormick kicked a ripping goal across her body after turning an opponent inside out in the third quarter. It was a match-defining 30 seconds for the visiting team, who followed up with another goal courtesy of Gibson's cat-like reflexes. The back-to-back goals pushed the margin out to 20 points at three-quarter time.


Not a bad goal for a soccer player, Jen!! #AFLWDogsCrows pic.twitter.com/N4Tgbe7ZNH

— Adelaide Crows (@Adelaide_FC) February 10, 2017

'Noffy' and 'Flippa' do indeed spell double trouble
McCormick and Killian's inclusions allowed game-breaker Phillips to spend more time in the midfield with her good mate Ebony Marinoff. The 'Double Trouble 'E' Team' combined for 35 possessions, with Marinoff (18) edging out Phillips (17) by one disposal. They also won 11 clearances, laid 10 tackles and generated eight forward 50m entries between them. Phillips' basketball background was evident in her ability to find time and space in traffic. She also had a team-high three score assists.
Distance is no barrier for this team
Work commitments and living arrangements prevent the Crows players, who are split between Adelaide and Darwin, from being in a 'camp' for the duration of the seven-week competition. But when the Territory-based players met the South Australian Crows at the team hotel after midnight in Melbourne on Thursday night, it was like the two groups had never been apart.
For a squad that has only trained together as a whole a few times, the chemistry, morale and team spirit is incredible. The players' passion and commitment to each other was a talking point throughout the Fox Footy coverage and among fans on social media. On Saturday morning, the two camps went their separate ways again and will be reunited in Adelaide on Saturday ahead of Sunday's clash with Carlton at Thebarton Oval.
"There wasn't one person on our team that didn't contribute to that game tonight regardless of the statistics." – Bec Goddard
The views in this article are those of the author and not necessarily those of the AFL or its clubs