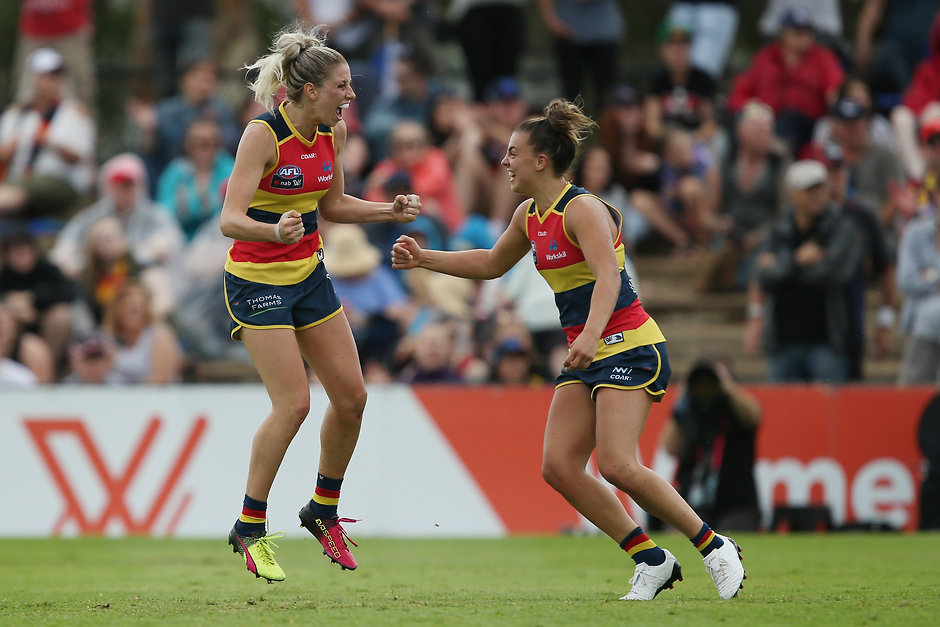 Inaugural Rising Star Ebony Marinoff and fellow All Australian Courtney Cramey lead a long list of players who have re-committed to the Crows for the second season of the AFL Women's Competition.
The Crows have now secured 20 members of its history-making AFLW premiership team.
Marinoff and Cramey are joined by South-Australian based teammates Jenna McCormick, Talia Radan, Anne Hatchard, Dayna Cox, Jess Sedunary, Justine Mules, Rhiannon Metcalfe, Rachael Killian, Deni Varnhagen, Georgia Bevan and Sarah Allan.
Northern Territory players Abbey Holmes, Stevie-Lee Thompson and joint-vice captains Ange Foley and Sally Riley have also inked new deals with the Club.
The signings follow those of co-captains Erin Phillips and Chelsea Randall and star forward Sarah Perkins.
Crows General Manager of Football Administration Phil Harper said the Club was delighted to re-sign its core group of players.
"During the first season, our aim was to build a great culture within the team and it's great to see our players eager to re-commit and build on what we achieved in 2017," he said.
In line with AFLW rules, clubs can re-sign up to 22 members of their 2017 squads during the signing and trade period which concludes on Friday, May 26.
Defender Heather Anderson, who dislocated her shoulder in the Club's Grand Final win, and midfielder Sophie Armitstead, who is recovering from a meniscus tear in her knee, were not offered new contracts as they recover from long-term injuries.
Midfielder Monique Hollick, who is recovering from a finger injury, and utility Tayla Thorn remain uncontracted at this stage.
The Club will strongly consider re-signing these players during the October AFLW draft and rookie draft.
Untried duo Lauren O'Shea and Jasmine Anderson have also been released by the Club.
In 2018, AFLW squads will be extended to 30 which includes 27 senior-listed players and three rookies.
Rookies must either be under 21 years of age on January 1, 2018, or not have played Australian Football or been part of an AFL high performance program in the three years prior to May 1, 2017.
A free agency period follows the signing and trade period, allowing players who played in 2017 but were not re-signed the opportunity to be picked up by another club.
Players who are still unsigned can then nominate for the draft on October 18.
The views in this article are those of the author and not necessarily those of the AFL or its clubs