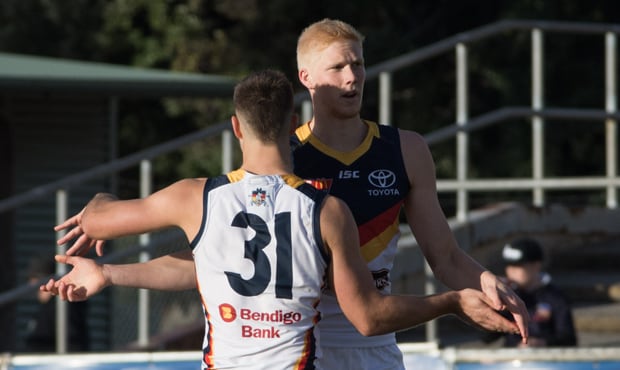 I take notes on what the defenders are trying to do against me and I get advice from the older boys in the AFL squad
Elliott Himmelberg
Elliott Himmelberg provided an exciting glimpse of the future on an otherwise dark day at Alberton Oval on Saturday.
The 19-year-old forward has exceeded expectations in his first season of senior football. Himmelberg leads Adelaide's SANFL goalkicking tally with 18 majors, going goalless in only three games and bagging multiple majors on five occasions.
His career-best four-goal performance against a strong Port Adelaide side on Saturday was reward for effort for the teen.
Himmelberg competed hard in the air from limited supply as the Magpies dominated the inside 50m tally 55-32 and often dropped loose players back into defence. Blustery and slippery conditions also made life difficult for tall, marking forwards.
Himmelberg said he's doing all he can behind the scenes to fast-track his development.
"It's been a big learning curve for me this year, and I'm still just trying to take on as much as I can," Himmelberg said.
"I take notes on what the defenders are trying to do against me and I get advice from the older boys in the AFL squad. I've been working really hard with 'Tex' Walker, JJ (Josh Jenkins) and Lynchy to try and learn as much as I can from them.
"It's good to get a little bit of reward but the team result is the main thing and we didn't get that today."
SANFL stats: Round 12 v Port Adelaide
A strong contested mark, Himmelberg displayed his athleticism with a skillful snap across his shoulder late in the opening term.
Nicknamed 'Big Easy', the laconic style of the 198cm, 89kg forward can sometimes mask the sheer competitiveness of the promising Crow.
"Laconic is the way I'm usually described as! I'm pretty easy going off the field," Himmelberg said.
"First it was 'E' and then 'Easy'. I'm not sure how that nickname came about, but the boys think they're pretty clever."


Elliot Himmelberg you beauty! A snap goal after a fast break from the centre bounce! @Adelaide_FC @SANFL #PortAFC pic.twitter.com/kHoP4Haj44

— 7SANFL (@7SANFL) July 8, 2017

After a competitive opening half, the SANFL Crows were blown away by Port Adelaide in the heaviest defeat for the Club at state league level.
The result continued Adelaide's rollercoaster SANFL season. Following two impressive wins over Norwood and Central District, the Crows have now lost their last two SANFL games by a combined margin of 110 points.
SANFL match report: Crows v Magpies
Himmelberg said the team needed to get back to basics.
"We let our good work during the week go to waste with a few turnovers and Port got a lot of their scores from that," Himmelberg said.
"They had a strong side in today, so we knew it'd be a challenge. We brought a lot of effort but they outplayed us in the end.
"It comes back to skills and execution. Our fundamentals weren't at the level today."
The SANFL Crows head to City Mazda Stadium to confront bottom-placed West Adelaide next Saturday afternoon.
The views in this article are those of the author and not necessarily those of the AFL or its clubs