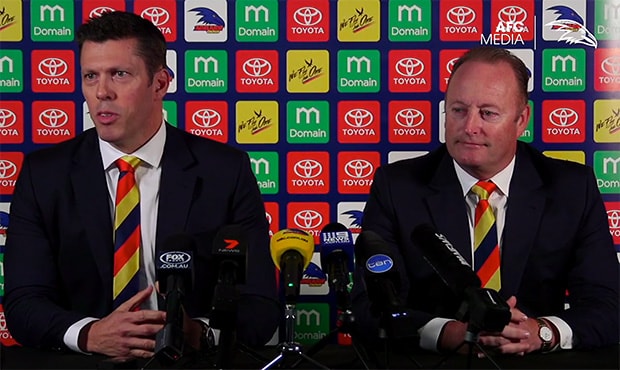 It will have no impact, zero impact, on football and their resource and the time spent making sure they do what they are here to do
Chairman Rob Chapman on whether the acquisition will affect the Club's football program
Q: Why have you bought a baseball team?
Fagan: I think we've spoken previously about our growth agenda, it's a really strong growth agenda as a Football Club, and that comes in a couple of ways.
One of those is through the traditional revenues streams and traditional areas of a football club. Our fan base is critical to that and we'll grow our fan base, we look at sponsorship and membership and ticketing and the like.
But the other way increasingly is through diversifying through what we do and looking for new ways for growth and engagement and we've assessed a number of those.
You saw the first notable part of our diversification strategy last year when we acquired an esports team in Legacy and this an extension of that.
When we looked at baseball it's really, really interesting. It's got a passionate fan base and community in South Australia. It's got a revamped national league that's going from six to eight teams, including teams from Korea and New Zealand. It's a global powerhouse as a sport, really strong in Asia and the US.
There's just plenty we liked about it; whether it's fan development, market development, commercial development and just building on the work that Baseball SA have put in over the last series of years and looking to apply our resources and our expertise in sports management to ensure baseball is going to be prosperous and successful for many years to come.
Q: Is it that overseas element that excites you the most? Being able to perhaps go to Asia and America?
Chapman: (That's) definitely one of the attractions.
Four of South Australia's leading export partners: Japan, Taiwan, the US, Korea -- well, Korea and New Zealand -- are going to participate in this competition. It broadens our reach. It gives us that international exposure.
Just going back to your earlier question around the growth strategy. Andrew probably wouldn't say this, but I can say it for him. He and his team have some expertise and some capabilities in sports management and sports administration and when we talk about growing businesses, you should play to your strengths.
As Andrew said, we've assessed a lot of opportunities. They come across our desk all the time and this one fits hand in glove.
It's South Australian. It's about helping a local team, we think they deserve to be the best they can and as I said, Andrew and his team have some capability to lend to them, and to build upon the great base they've built on over a number of years.
Q: Branding wise, will we see any Crows in the Bite or the Bite in the Crows? Colours, logos, etc?
Fagan: At the moment, the Bite will continue to operate as the Bite.
Obviously, there's been equity built into that brand and we're going to provide capability, support and look to drive growth for the benefit of both baseball and the Crows.
I have no doubt you'll see some of our players down there, and there will be some integration of sorts, but nothing in terms of colours or logos.
NEWS: We have acquired professional baseball team, @AdelaideBite https://t.co/3eUEuuTHJb #weflyasone pic.twitter.com/Lm4cJOF2vH

— Adelaide Crows (@Adelaide_FC) June 4, 2018
Q: You talk about expansion opportunities that have come across your desk. Did you consider the Thunderbirds or 36ers, or is that something you'll look into in the future?
Fagan: We've considered a lot of things and we don't rush into any of them.
We've established a company – Adelaide Sports & Entertainment – that effectively under which things like esports, our esports team, our Media business and baseball; and I'll suggest to you that in the future there might be other things might get added to that, but they've got to suit, they've got to tick a number of boxes and suit our needs, and we need to be really comfortable that we can add value to those organizations that we partner with.
It would be inappropriate to talk about what we may have considered but I'll certainly suggest to you that there may be others added down the track.
Q: How comfortable are you that it won't impact on your core business, which is of course football and the team?
Chapman: It was probably one of the first questions that the Board asked of Andrew and let me emphasize this: this will have no impact on the football club.
The people running the football side of the business will continue to run it and devote 100 per cent of their time and energy and resource to fulfilling their obligations and achieving the best they can.
You know, if Andrew and his team, if they weren't going out to assist the Bite to be the best they can, they'd be doing something else. So, it's just a replacement of task and function.
It's a really good question, it's something that the Board asked Andrew the first time and he mitigated with the right answer. It will have no impact, zero impact, on football and their resource and the time spent making sure they do what they are here to do.
Fagan: Essentially, our Commercial team, Fan Engagement, Membership team, Media & Communications team; our Events team, Marketing team, they spend their days just trying to grow the Football Club. To make us strong in every facet of our operations, and this is an extension of that.
Whether that is bringing onboard new partners, or bringing on board another 5,000-10,000 Members, it's all about trying to grow our base, and this is just another part of that.
Q: What did you pay for the Bite?
Fagan: As part of the revamping of the League there's no capital outlay. It's just a commitment, obviously, to fulfil the terms of the license that the ABL and Baseball Australia have granted us. So, it's effectively it's a zero-cash transaction.
🚨We're front page news with @Adelaide_FC 🚨 pic.twitter.com/PehqNAkbIQ

— Adelaide Bite Baseball Club (@AdelaideBite) June 4, 2018
Q: What sort of ongoing expenses do you anticipate you'll have to find to maintain that relationship with the Bite?
Fagan: We're really confident in the modelling we have done that this will be net positive with the Bite and the Adelaide Football Club.
Q: Have you looked at a few other organisations around the world that have done that have done similar, their hands in a few certain camps? Have you looked at those and picked ones that have worked well and ones which haven't worked well to learn for this expansion?
Fagan: What we are doing isn't new on a global scale. You're right, there are a number of very large clubs internationally that have taken a similar approach internationally.
I'm close to the guys at the Harris Blitzer Sports Group and the Philadelphia 76ers who own the New Jersey Devils. They've got an innovation lab. They've got part ownership in Crystal Palace. They own and run a venue in the Prudential Center. So, it's not unusual and through that, through the conversations that we've had with them we've taken some learnings, and they've certainly underpinned some of the decisions we've made in this regard.
Q: Logistically, how is it going to work? Ultimately, people make decisions about coaching staff, player list, facilities, that sort of stuff. Who will ultimately make those decisions?
Fagan: Yeah, that's a really good question. I'll promise you one thing, that Rob and I won't be making decisions on the roster, but we've obviously got an existing GM of Baseball Operations in 'Davo' (Nathan Davidson).
We've got Tank (Chris Adamson) standing over there in the corner of the room who will continue as Manager.
So, they will build their roster out and continue to run the operations of the team, but they'll report into the Football Club so we'll provide the overall governance for the operation.