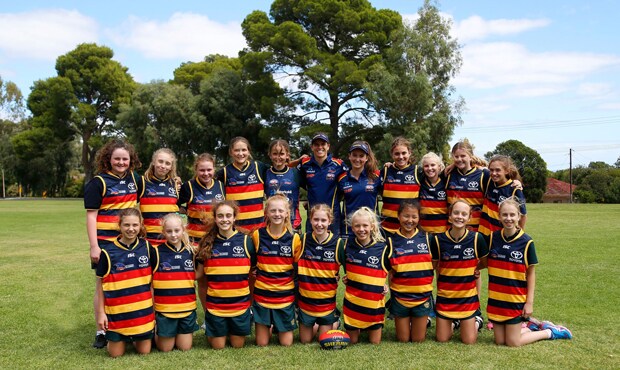 It's so important to continue to build and focus on the talent that's coming through, because we are going to be the ones that reap the rewards of having them in our program.
Chelsea Randall
Reigning AFLW Club Champion Chelsea Randall will work with the Crows Academies in 2019 as part of a new Female Talent Officer role at the Club.
Randall will oversee three female academies part-time, while also continuing her work with female engagement programs in the Club's Community team.
The newly renamed Crows Academies program has grown significantly over the past three years and now has nine programs under it, including:
Next Generation Approved Talent Program – AFL and AFLW Acceleration
Elite Talent Program – Boys
High Performance Academy – Girls
Diversity Program – Boys
Aboriginal and Torres Strait Islander Academy – Girls
Father Son Academy
Father Daughter Academy
Schools Crows Cup and Academy Program
Regional Academy Hubs – Boys and Girls
With the growth, extra resources will be put in place to attract, retain, develop and accelerate participants.
This means Randall will get to see the female footy pathway from when young girls start playing, until they are 17 or 18 and in the draft pool age bracket.
"From community through to the Next Generation Academies, I've personally got access from a five-year-old girl, up to our elite standard girls," Randall said.
"It's pretty cool to be hands on and operational with that."
Each academy will have 10-12 sessions throughout the year, and while physical training will be a major part of each program, important skills will be learnt off the field too.
Every session will have an education focus, including nutrition and cooking classes, injury prevention, different rehab and recovery techniques, running techniques and self-massage.
Randall is looking at getting other empowering women involved in the program, from AFLW players and coaches to small business owners, in order to inspire the next generation to be the "best version of themselves."
For the aspiring footballers, the academies will be an integral part of their development.
"Now, these girls can get a taste about what AFL Women's is about and be able to prepare their bodies a little bit earlier, in terms of introducing injury prevention exercises," Randall said.
"We can shape their bodies so that they can have the best opportunity to play their best football.
"Simply, we are providing them a platform as players to grow and learn and then fast track that development."

Randall has been working with young footballers in the community throughout the year
Being involved in the Crows Academies is exciting for Randall, who is passionate about working with younger people and making them not only better footballers, but better people.
With a six-year game development background while studying a teaching degree at UniSA, Randall is well suited to developing the next generation.
"I find it really rewarding working with young people and such talented groups," Randall said.
"They are going to be the next Erin Phillips or Ebony Marinoff's and I have the opportunity to personally work with each individual through their football journeys
"I think it is so important to continue to build and focus on the talent that's coming through, because we are going to be the ones that reap the rewards of having them in our program."
Ahead of 2019, the Crows Academies have been re-branded with a new logo, new uniforms and a new-look webpage.
New Regional Academies will be launched in the South East in conjunction with Glenelg Football Club.
With over 1100 participants registered in Crows Academies activations in 2018, Next Generation Academy Coordinator Jarrod Meers said even more will be involved in 2019 with the new academy structure.
"We are now really investing into the concept from a branding, resource, staffing and overall reach perspective," Meers said.
"Not only will the Academies run out of our club base, but programs will be extended more than ever before and will have impact locally, regionally and interstate.
"After a couple of years of establishment, the programs can now consolidate, and the Crows Academies model will start to really benefit our Club."
The programs will kick off in November, starting with the AFL and AFLW Acceleration group.