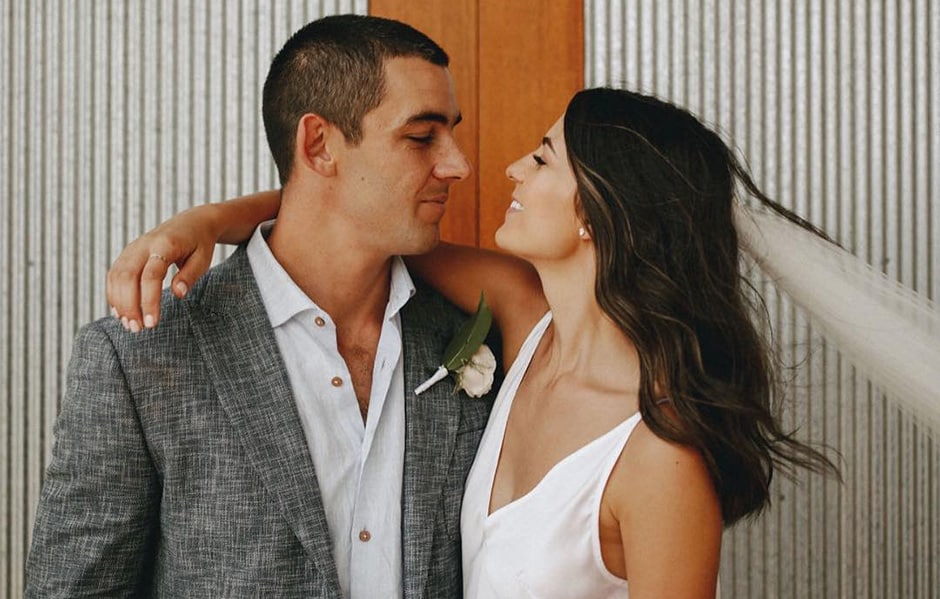 We want to start a family, so we thought this was the best way to do it
Taylor Walker
It was the surprise wedding of the year for Crows fans as skipper Taylor Walker tied the knot to long-term partner Ellie Brown on Saturday afternoon.
Speaking to Roo and Ditts on Triple M on Tuesday morning, the Adelaide co-captain shared the story behind the couple's surprise ceremony.
"Ellie came home six to eight weeks ago and said 'I've got an idea,'" he said.
"She said 'let's get married' and I said 'well, that's the inevitable, we are engaged, we are going to get married'."
"But we thought let's do it, not to get it out the way, but we want to start a family, so we thought this was the best way to do it."
View this post on Instagram
The pair exchanged vows in an intimate ceremony in the Adelaide Hills, Walker explaining he and Ellie decided to throw the rule book out the window and do things on their terms.
"We went up to Marble Hill and had a lunch with 30 odd people, then we came back down to Whistle and Flute on Greenhill Road where about 100 people were waiting for us," Walker said.
"We didn't do a dance, we're a little bit different, we just came back and wanted to party because I think there's two times in your life when you have those sort of people in the room: your wedding day and then when you die."
MEMORY LANE: The story behind Tex's proposal
However, it wasn't all smooth sailing as the 28-year-old's best mate and former Crow Bernie Vince accidentally missed the ceremony.
"Bernie and Abbie (Vince) are pretty tardy with their time management, so Ellie and I buzzed them and said you actually need to be there on time," he joked.
"But they still decided that Bernie would rock up half and hour late and miss the ceremony."
Walker explained his former teammate had played in a cricket grand final in his hometown on Stansbury on the Yorke Peninsula the night before the wedding.
"They won the cricket grand final the day before and before he started the drive, he blew the breathalyzer to pieces, so his dad had to drive him," he said.
But that did not not stop the happy couple from enjoying their special day.
"It was a pretty emotional and exciting day," he said.