Chelsea Randall has put together a near-perfect season to claim the Crows Women's Club Champion award on Wednesday night.
In a reflection of her remarkable consistency, Randall polled 162 of a possible 168 votes from the Adelaide coaching panel headed up by Senior Coach Bec Goddard.
The Crows co-captain received a maximum 24 votes against the Brisbane Lions in Round One and was never challenged, finishing 33 votes clear of runner-up Sarah Allan in the count at the National Wine Centre of Australia.
It's further recognition for the fearless Randall, who also won the peer-voted Players' Player Award for the second-consecutive year and was earlier in the week crowned joint-winner of the AFL Coaches' Association Champion Player of the Year.
Allan and Rising Star Ebony Marinoff were locked in a race for second spot from the early rounds.
Allan led Marinoff by a single vote heading into the last game, and polled 18 against Collingwood to finish six ahead of her former South Australian junior teammate.
Marinoff also finished third last season behind runner-up Randall and inaugural winner Erin Phillips.
Northern Territory-based joint vice-captain Ange Foley (106 votes) was fourth on Wednesday night ahead of ruck Rhi Metcalfe (97) and winger Deni Varnhagen (95).
See the round-by-round Club Champion voting
One of the most-improved players in the competition, Rising Star nominee Allan also claimed the Club's Best Defensive Player award in her first full season in the backline.
Randall, Allan, Marinoff and Phillips were the only players to receive maximum votes in a game, with Randall achieving the feat four times – against the Lions, Western Bulldogs, Carlton and Fremantle.
Despite missing the opening two rounds of the season through injury, Phillips finished seventh in the voting and shared the Leading Goalkicker Award with exciting first-year forward Ruth Wallace.
Wallace (89 votes) and fellow goalkicker Eloise Jones (86 votes) both achieved top-10 Club Champion finishes in their debut AFLW seasons.
In the Crows Women's Club Champion, votes are cast on a 1-4 basis by the six coaches – Bec Goddard, Andrew Hodges, Mark Moody, Brooke Copeland, Andrew McLeod and Peter Caven – after each game.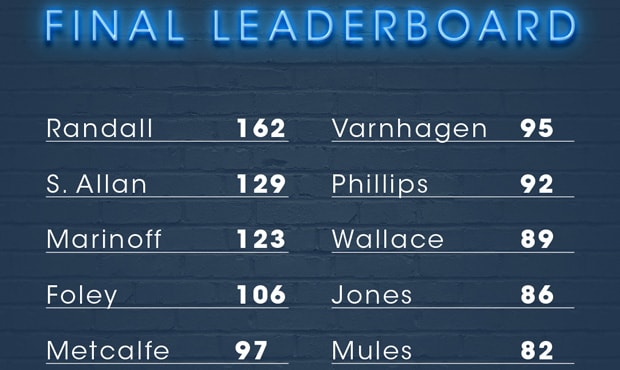 2018 Award Winners
Crows Women's Club Champion – Chelsea Randall
Runner-up – Sarah Allan
Third place – Ebony Marinoff
Players' Player – Chelsea Randall
Best Defensive Player – Sarah Allan
Leading Goalkicker – Erin Phillips and Ruth Wallace