It's been a big month for Crows development squad member Pierce Seymour.
First, he ran onto Adelaide Oval for the first time and played in the SANFL finals, helping the Crows reach a preliminary final.
Then on Saturday, he won the Adelaide Footy League Division One premiership with his local football club Payneham Norwood Union as they defeated Prince Alfred College by four points in a thriller.
A week on, the 24-year-old was still pinching himself.
"I was in the fortunate position of playing in two teams deep into the finals, which not many players get the opportunity get to do, so I was very lucky," Seymour said.
"It was really rewarding, playing on Adelaide Oval and playing with some elite AFL players, that experience was just great.
"And then to play in the premiership with Payneham was pretty special, it probably still hasn't sunk in." 
The defender made his SANFL debut in Round 13 and played every game bar one for the rest of the season.
He produced an impressive finals campaign, and was particularly strong in the qualifying final against Port Adelaide, with 22 disposals and seven rebound 50s.
At the beginning of the season, Seymour never expected to play such a significant role for the Crows.
"At the end of last year, if someone had told me that I would play a Saturday night game under lights at Adelaide Oval against the Port Magpies, I wouldn't have believed it," Seymour said.
"To get that opportunity and another two games (on Adelaide Oval), it was surreal and playing on Adelaide Oval is something you definitely cherish."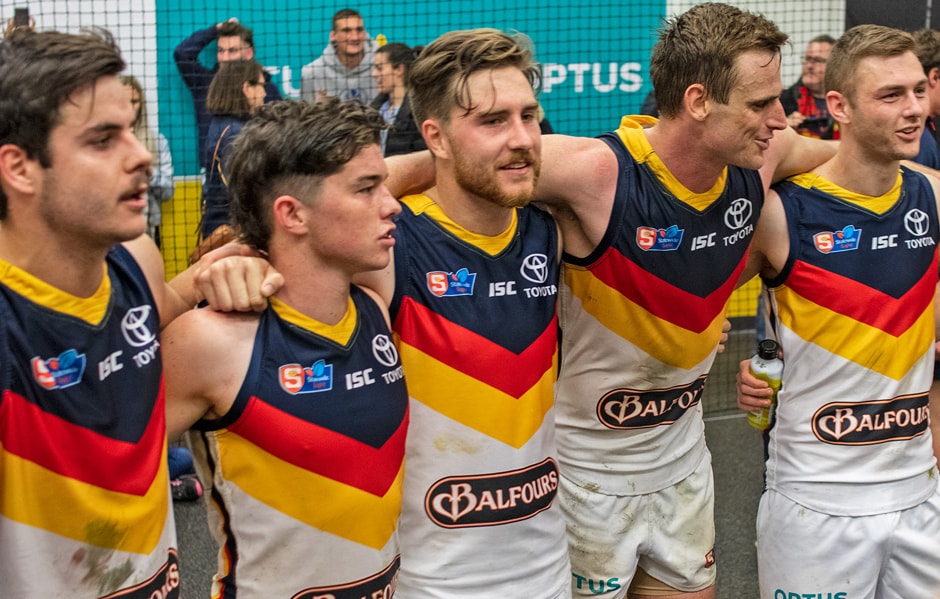 Seymour (middle) singing the song after the semi-final was Fogarty, McHenry, Hunter and Merrett
Seymour took what he learned from the Crows and shared it with his Payneham teammates as they embarked on their finals campaign.
"I took away some of the game plan and tactical schemes Adelaide uses in defence and tried to implement them at Payneham," Seymour said.
"I was working really closely with [development coach] Brent Reilly about body positioning and those types of things as a defender.
"For me to then come back and teach some of the younger defenders at my footy club about that stuff as well, it was pretty beneficial."
Having previously played in the juniors at Norwood, playing SANFL footy was something Seymour had always strived for.
Joining the development squad in 2019 gave him that opportunity.
"It was an awesome feeling to get that debut at SANFL level and it's probably something I have always wanted – to push myself and play as high as I can," Seymour said.
"To achieve that this year was pretty good."
SUCCESSFUL SEASON: Younie talks about the positives of the 2019 SANFL season
Former Norwood hero and two-time Magarey Medallist Garry McIntosh coached Payneham to the flag.
A big supporter of Seymour over the years, McIntosh has pushed him to follow his dream of playing at the highest possible level.
"Pierce has always had a really good skillset and in our group, he is a bit of a leader and very instructive," McIntosh said.
"He's a good kid and he's always had a dream of playing SANFL footy, so he has accomplished what he set out to do.
"I'm stoked for Pierce, because I have been one to encourage him to go to the next level all the time and he's doing it."
Seymour wasn't the only Crows development squad member to win a flag on the weekend.
Mitch Johnson and Sam Tharaldsen were premiers with Flagstaff Hill, who beat the previously undefeated Noarlunga team in the Southern Football League by 33 points.
Forward Michael McMahon was also victorious with Glenunga in Division Three.