The visitors' rooms at The Gabba were awash with emotion and pure jubilation after Adelaide's Round Nine win over the Brisbane Lions.
You couldn't wipe the smiles from the families of successful debutants Jordan Gallucci and Hugh Greenwood, while Queensland-born Charlie Cameron had a large and vocal contingent on-hand to witness his scintillating four-goal third quarter effort.
For Greenwood, it was another massive achievement on a remarkable journey, made even more special with his mum Andree there to witness his maiden appearance at the top level after being diagnosed with metastatic breast cancer in 2009.
"It's really special. The reality is my mum shouldn't be here but she fought and I made a promise I'd be here and she'd see me play my debut and we did that," Greenwold told afc.com.au after the 80-point victory.
Greenwood's late grandfather, Peter Marquis, played in three consecutive VFL premierships with Melbourne (1955-57) in his 99 AFL games, so the Tasmanian's debut on Saturday night resulted in another family milestone.
"My pop played 99 games so as a family, to get 100, is pretty special," Greenwood said.
"There's just so many factors. I wasn't really out here to prove anyone wrong. I just wanted to prove the ones who supported me and believed in me that I could do it and I feel like I've done that today."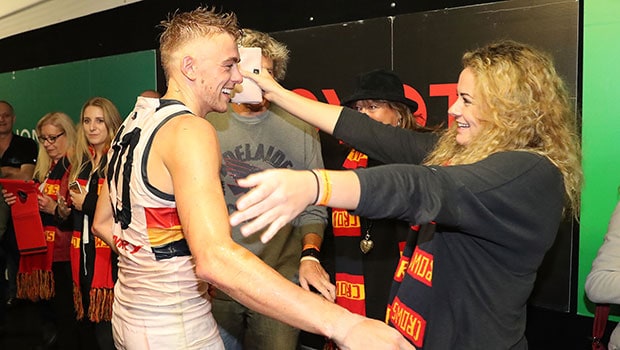 Greenwood celebrates with family after the Round Nine win.
Instructed by coach Don Pyke earlier in the week to 'come in and play a role', Greenwood exceeded all expectations, registering a game-high four tackles in the opening stanza and booting three goals in the first half.
His first AFL goal came after the quarter-time siren, with the 25-year-old mobbed by teammates who came from far and wide to join in the celebrations. Greenwood recalled the moment, admitting his first thoughts were not wanting to 'shank' the kick.
"Eddie wanted to give it to me from the get-go. He marked it and I shuffled past him and he wanted to get the handball and I was like nah, nah, nah, it's yours," he said.
"I sort of trotted into space and he was still staring at me and I was still open and he kicked to me. He gave one to 'Gooch' too.
"I just didn't want to shank it because I knew everyone was watching, my first sort of actual kick I just didn't want to shank it and once it went through I was just really, really happy."
How special was this for @HGreenwood3! #weflyasone pic.twitter.com/iUCJRGPACG

— Adelaide Crows (@Adelaide_FC) May 20, 2017
Although the debutant only registered six touches in the second half as others in the Crows' talented forward line took over, Greenwood did what he was instructed to do with aplomb.
He played his role, and was rewarded with a well-deserved Gatorade shower.
"I died out a little bit but that'll come, I'll get that match fitness. It's a different level, different intensity but helped build a comfortable lead in the first half and our leaders and Charlie took over in the second half and got us to win," Greenwood said.
"I just wanted a Gatorade shower, that's all I needed and all I wanted."