Young defender Andrew McPherson has faced his fair share of challenges since arriving at West Lakes in 2017, injury keeping him on the sidelines for all but nine games.
But in 2019, he's found some continuity, playing the last five games for the SANFL Crows.
Admitting it was a difficult 2018 at times, McPherson said he learned a lot during his stint on the sidelines.
"The diligence was massive, I've developed a good understanding of where my body needs to be and the things I need to do week to week to get my body up," McPherson told AFC Media.
"I also used it as an opportunity to bulk up a bit, I was probably a bit undersized coming in last year.
"That will hold me in good stead playing against some bigger bodies at senior level."
NEW ENVIRONMENT: McAdam on adapting to elite footy
McPherson said he didn't have much of an off-season, spending as much time as possible in the gym.
After a few months of solid training prior to the season starting, it was deflating for McPherson to suffer a small hamstring strain in Round Two of the SANFL.
"I suppose that was my body still accustoming to the environment and demands of playing senior footy," McPherson said.
"It was pretty frustrating, but the strength and conditioning guys and the physios were pretty confident that it was only a little setback and hopefully that's in the past now.
"Finally getting out there now is nice, I'm happy to be doing what we are here practicing for most of the year."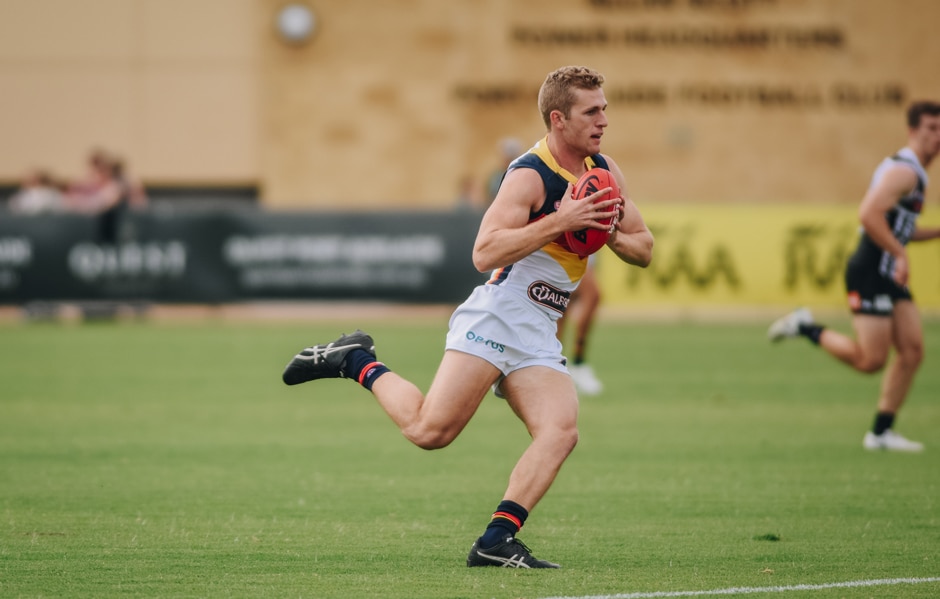 McPherson returned to the field in Round Seven of the SANFL season and fitted in seamlessly to the side.
He's averaged 16 disposals, five marks and three rebound 50s, while providing run out of the back half alongside 2018 draftees Will Hamill, Lachlan Sholl and Jordon Butts.
The mechanical and sport engineering student has built some close friendships with the newest recruits.
"We all play similar positions and flick through a couple of different roles on game day, so we work closely and are forming a strong bond," McPherson said.
"It's been awesome getting to help them and teach them a little bit and also learn a bit from them as well.
"Those guys have signed contract extensions too, so it gives us a block of years to really form together and try and build something of our own."
MATCH REPORT: Crows beat Sturt in wet
As the youngers players adjust to the Crows style of play, McPherson said receiving support from their experienced teammates was paramount.
"Otto [Andy Otten] in the SANFL is an unbelievable leader, he leads by example and the value of his voice out there for us is second to none," he said.
"Browny [Luke Brown], Smithy [Brodie Smith], Harto [Kyle Hartigan] and Tals [Daniel Talia] always shed a bit of wisdom on us.
"We are working on a whole range of things – from when to press, when to sit back, when to fly in third man – and those guys have been good in helping us build that stuff."
The SANFL Crows will be looking to maintain their top spot on the ladder on Sunday afternoon when they take on the Redlegs at Norwood Oval.